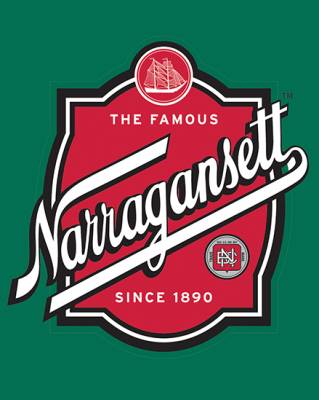 First brewed in 1890, Narragansett Lager Beer is making a resurgence, and in some New York City bars has taken over the low priced but good beer spot … a spot that was previously dominated by Pabst Blue Ribbon.
The Gansett story began with the Rhode Island's Haffenreffer family in December 1890. From its inception through the 1970s, Narragansett Lager beer was the dominant beer in the New England area when in 1955 it attained a lofty 55% share of market. Ownership of the brewery changed hands when Rudolph Haffenreffer sold it to The Falstaff Brewery in 1965.
In some ways, Falstaff and Narragansett were ahead of their time as they were innovators in sponsoring major events such a Led Zeppelin concert in 1969, Crosby, Stills, Nash and Young at the Boston Garden in 1971, and the Newport Folk Festival. The brewery also continued to use the beer's clever advertising featuring the designs of cartoonist Theodor Seuss Geisler, a.k.a. Dr. Seuss.
Unfortunately, under the new owners, the Narragansett name began to lose its identity as Falstaff fired sales people, discontinued sponsorship of the Red Sox, and moved production from its home base in Rhode Island to Indiana. And in 1983, Falstaff ended the production of Narragansett Lager.
In 2005, a group of investors purchased the rights to Narragansett. They hired Phil Anderson, its former brew master, to recreate the beer's original formula. Since its return to market, Narragansett Lager has won several beer competition awards including a Silver award at the World Beer Championship and a Gold award at the Great International Beer Competition.
Narragansett Lager with its ever-popular slogan, "Hi Neighbor – Have a Gansett!" is brewed in the style of a classic American Lager. It is clean and crisp and has a mild aroma of grass and hops. Its 5% alcohol level is derived from the use of six row barley malt and a strain of its original proprietary yeast. Iowa corn provides additional body and sweet flavor while other aroma and flavor characteristics come from a blend of hops from the U.S. northwest.
Narragansett is refreshing and drinkably smooth. Available in 16oz tall boy cans, Narragansett Lager Beer has stayed true to its heritage and New England roots. It is "Made on Honor – Sold with Pride."