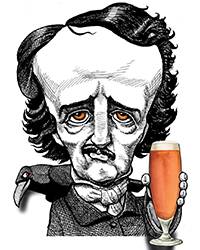 You don't come across a lot of people in the beer business who also have a PhD in Molecular Biology and Biochemistry. Meet Stephen Demczuk, co-founder of Baltimore-based RavenBeer. The Dundalk native was doing post-graduate work at the University of Geneva in Switzerland when he fell in love with beer. "I had what I call a few 'near-religious experiences' with beer," he stated, during a recent interview with the Beverage Journal.
Beer became a professional side passion of his. When he wasn't in a lab, he was traveling Europe, visiting different breweries, and writing about his experiences for such publications as American Brewer. He eventually "dropped out of science" to pursue a career in beer full-time.
His first success was launching Beer Around the World, the first European beer of the month club. "I started packaging and shipping beer off from small breweries around the world," he recalled, "up to 15 countries we shipped to in Europe. I would bring the beers in and pay the fees and tax. Once you pay the tax, you can do with the beer what you want over there. There is no three-tier system. You can box it, sell it, distribute it, take it to your restaurant, whatever you want."
After selling that business to his partner, he had an offer from future partner Wolfgang Stark to start brewing his own beer. That was 1997. A year later, he moved back to the Baltimore and launched RavenBeer. Over the years, he has built a highly successful brewery in Charles Village specializing in Edgar Allan Poe-themed beers.
The first was the Raven Special Lager, a smooth beer that compares favorably to Yuengling and Samuel Adams. "Overall," Demczuk said, "we focus on German-style beers, lagers and pilsners. Few breweries do that, because they're typically hard to make. They take longer to make. They can both be very light in taste, color, and body. So, the imperfections show up easier. With ales, they are faster to make, easier technically and with fruitiness and other dominating flavors found in ales, imperfections in the beer are masked. But with a pilsner or a lager, you have to nail it. That's what make our beers special. Few people make them, and make them well."
The company has six brands in all currently, including such colorful and Poe-centric names as the Tell Take Heart IPA, Annabel Lee White, and Pendulum Pils. Dark Usher is the company's sixth and most recent launch. "I knew our sixth one was going to be a German-style Kölsch," Demczuk remarked. "I went through a number of Poe books, trying to get inspiration. And then it dawned on me that I had never heard of a Dark Kölsch before. So that brought to mind Poe's The Fall of the House of Usher. So, our Kölsch Dark Usher was born. The first line from the book became our tagline on the beer label."
Most fans of RavenBeer are first taken by the label art for the Poe series. The original drawing is by Baltimore Sun editorial cartoonist Kevin ("Kal") Kallaugher. "I knew Kal. So, I called him up, but it was an election year, and he said 'No, I'm up to my ears in Republicans and Democrats. Call me after the election.' I waited a week, called him back, and said, 'Kal, this is really a Baltimore thing. Poe is buried here, we're brewing the beer here, and you're here. And, by the way, [artist and longtime Hunter S. Thompson collaborator] Ralph Steadman draws labels for Flying Dog. He e-mailed me back and said, 'Ralph's doing beer labels?! If he's doing beer labels, I'm doing beer labels!'"
Demczuk continued, "We weren't going for the mysterious Poe or the macabre Poe. But we didn't want to be goofy and corny Poe either. We wanted the likeness to be somewhere in between. I think it's gone over very well."
That's not to say Demczuk hasn't made mistakes along the way. One of his earliest missteps was marketing. "I should have listened to Hugh Sisson," he lamented. "Hugh told me, 'Don't advertise in the mass media. It'll drain your finances. You have to do it one bar, one liquor store, one beer at a time.' But I had some investors and a pocketful of money, and I shot my wad with radio and TV advertising. I got the name out. But once the money runs out and you stop advertising, so do the beer sales. Now, I am very conservative about how I market the company. It's now about guerilla marketing -- beer tastings, beer festivals, and things like that."
Looking ahead, Demczuk sees nothing but positives for RavenBeer, specifically, and Maryland beer, in general. He concluded, "Both the craft beverage and beer market is exploding in Maryland. We now have the Brewers Association of Maryland, with I think 48 members. Two years ago, we had only 14 or so. The laws in Maryland are strictly enforced. They do tend to inhibit the growth that we're looking for. But we're hoping to change those laws and help accelerate the growth of Maryland beer."