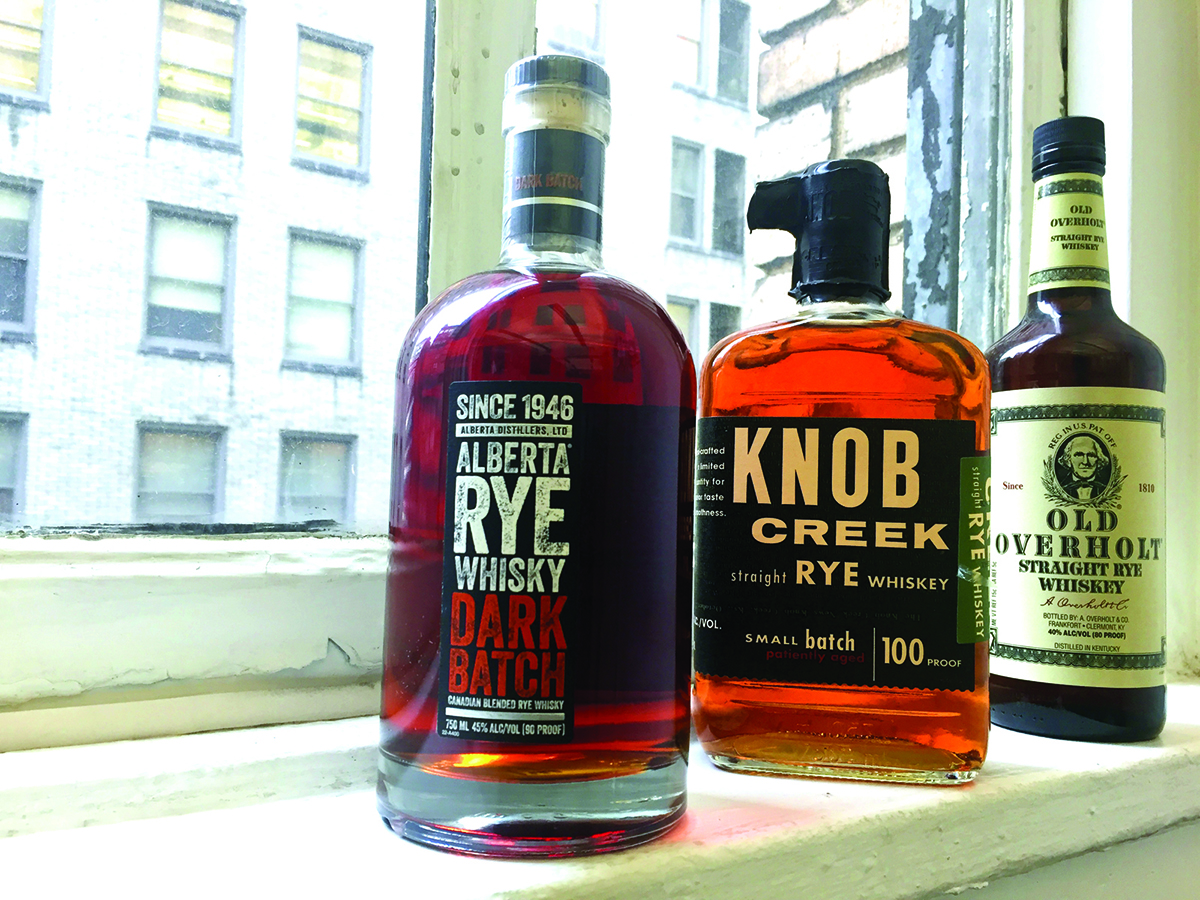 Demand is not a problem. It seems that no matter what hits the shelves, it sells. It's an enviable position for any spirit, and it encapsulates the unrivaled comeback tale of rye whiskey. According to figures from the Distilled Spirits Coincil, rye sales exploded—609% from 2009 to 2014—with growing supplier revenue jumping from $15 million to $106 million over the same time period, representing over $300 million at retail. And last year, once again, rye sales leapt by nearly 20%.
Rye is still a very small piece of the American whiskey trade, about 675,000 cases. But Canadian rye also increased by about 100,000 cases last year. Numerous brands—from Whistlepig and High West to Templeton, Hochstadter's and others—continue to emerge.
Meanwhile, the big Kentucky distillers increase their rye output while at the same time managing recent expansions bourbon production. Much of the rye sold under a long list of names, including Bulleit, comes from the MGP Distillery in Indiana—a recent Cowen Insight report stakes MGP's share of rye sold in the U.S. at a surprising 70%.
If not from Indiana, a good portion of ryes arrive from Canada including Lot No. 40, Crown Royal Northern Harvest Rye, Alberta Dark and others. (Canadian law allows distillers there to call "rye" any whisky made with a low percentage of rye—most of the brands emerging are high rye content traditionally used for blending into Canadian whisky.)
Bartender Love
The boom and the accompanying enthusiasm, especially among bartenders, caught most distillers by surprise. As recently as a few years ago, Wild Turkey was poised to reduce the proof on their long time rye icon, Wild Turkey 101. The fight for a stay of execution, led by California bartender Erick Castro, helped convince brand owner Campari. "If they had killed it there would have been a lot of unhappy bartenders," said Robin Coupar, Global Whiskey Brand Ambassador, Campari USA.
It's a sign of how important the bartender has been in the return of rye, and most brands retain tight allocation, focusing on on-premise and specialty retailers.
"When I started managing Russell's Reserve in 2010 or so, that's when rye was starting to grow, and something was happening driven by bartenders on the East and West coasts," Coupar says. "Now value is increasing faster than volume, so producers and brands are able to take a little bit of a price increase because the demand is high and the availability is limited." Campari launched a very limited barrel Russell's Reserve rye this year, a non-chill filtered 104 proof expression. This spring marked the second time that Michter's Distillery released their US*1 Barrel Strength Rye. "To enter the distillate for our US*1 Rye and our US*1 Bourbon into the barrel at 103 proof instead of a higher, more industry standard proof is very expensive, but our goal at Michter's is to produce the greatest whiskey possible, regardless of the cost," says Michter's President, Joseph J. Magliocco.
Points of Distinction
Communications Director for Heaven Hill Larry Kass points that some confusion still reigns about what rye is. "Ours are traditional American-style three grain, 51% rye, quite different from the high rye content blending ryes."
Coupar agrees: "The formula for a lot of those ryes is very high—95% with other malted ryes so they'll be big and bold and spicy. At Wild Turkey, we still use a significant amount of corn, so Russell's Reserve is spicy and bold but with a mellow sweetness."
There is much talk in the spirit business about the "smoke and mirrors" used to sell the brands that are positioned as craft but come from the massive Indiana distillery. That's unlikely to change much, as MGP is expanding capacity.
But others are poised to benefit from the opportunity to charge more: this month, Booker's Rye hits the market. "I'm so proud to honor my dad, Booker Noe, with the special release of one of his greatest experiments, Booker's Rye," says Fred Noe, the 7th generation Master Distiller at Beam Suntory. "Dad saw the temperamental rye grain as a challenge—small, but tricky to work with. He finally got it just right when he laid down these barrels late in his life in 2003."
Beam Suntory already has long-time stand-bys Old Overholt and Jim Beam Rye as well as Knob Creek Rye and Alberta Rye Dark Batch Whisky. Rob Mason, Beam Suntory Vice President, US Bourbon, points out that Knob Creek has been the fastest growing rye over the last 52 weeks per Nielsen numbers. Overholt is actually one of the ryes that has the biggest momentum, a favorite in the bartender community in terms of quality and value," he adds.
Heaven Hill added the six-year-old 110 proof Pikesville last year at about twice the price point as the established Rittenhouse. "We knew there was an opportunity there and we've seen Pikesville be successful to date," says Senior Brand Manager for Whiskeys at Heaven Hill, Susan Wahl. "We're in the midst of an expansion, but both ryes are still allocated products because the demand is just so high. We'd love to be able to push over more to the off-premise secaor but we haven't had the supply to give us that luxury."
Scotch in the Rye Game
How about this for a signal that demonstrates how coveted rye has become as a taste profile: "I am pleased to present the first Johnnie Walker Rye Cask finished Blended Scotch Whisky," said Master Blender Jim Beveridge. Johnnie Walker Select Casks – Rye Cask Finish has Cardhu single malt at the heart of the blend, matured for at least ten years and then rested in first-fill American Oak ex-rye whiskey casks, creating a complex new whisky with rich layers of flavor starting with creamy vanilla notes and transitioning to a spicier finish.
Download Rye's the Limit