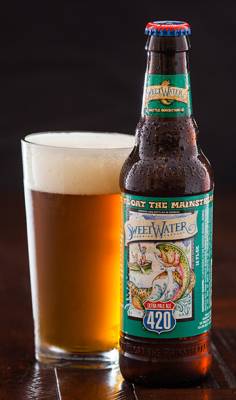 Freddy Bensch and Kevin McNerney founded the SweetWater Brewing Company. The two became friends while attending the University of Colorado. During college, they developed a passion for beer, and after graduating they headed to California to attend brewing school at the American Brewers Guild. They then worked at various craft breweries before opening their own brewery in February 1997 near SweetWater Creek outside of Atlanta, Georgia. In April of that same year, they produced their first brew, SweetWater 420 Extra Pale Ale, and it remains the brewery's most popular beer.
American Pale Ales are made from U.S. ingredients and are brewed for a careful balance of sweet malt and bitter hops. They are typically a brilliant gold color, are approachable, and are often considered to be session beers because of their easy drinkability. They are in complete contrast to the older British style ale, which is darker and has a bitterer flavor profile.
SweetWater 420 Extra Pale Ale perfects the American Pale Ale style with its aromatic and full flavor that is equally weighted in both directions. The beer pours a rich gold color and has a generous head of foam that sticks around and provides plenty of lacing inside the glass. It gets its gold color and sweet flavor from a blend of Munich malt known for its robust malt flavor characteristics, L40 malt which imparts caramel notes and two row barley malt that supplies the majority of carbohydrates and sugars for brewing and fermenting.
In order to achieve a nice blend of aroma and bitterness, the brewer combines Cascade and Centennial hops. Cascade hops, a "go to" hop variety for pale ale, provides a medium level of aroma and a low level of bitterness. Centennial hops add flowery and citrus aromas to the mix and a medium to high level of hop bitterness that is more pronounced at the beginning than at the finish.
Before the brewing process is complete, the brewer takes an extra and final step to produce a naturally balanced and well-carbonated beer by using a technique known as "conditioning" where priming sugar and yeast are added directly in a bottle or can. This process produces a secondary fermentation in the container. But, don't be alarmed to see white particles sitting at the bottom of the bottle; they are harmless unfermented yeast particles. Besides, these "sinkers" tend to be a great conversation starter. While conditioning adds to the overall length of the brewing process and is a costly step for the brewer, it results in a well-carbonated, smooth and drinkable beer. SweetWater 420 is typical of most American Pale Ales with a bitterness content of 41 bitterness units (IBUs) and a moderate alcohol level of 5.3% abv.
The name SweetWater 420 Extra Pale Ale officially memorializes the date the beer was first brewed April 20, 1997, but there is much conjecture over the 420 name. Regardless of the truth – myths, legends and stories are great free marketing tools and SweetWater Brewery makes ample use of stories and slogans to promote their brands. And, the good news for your customers who have had to travel out of state to find SweetWater beers is that the entire SweetWater portfolio including SW 420, Georgia Brown, Spinner (a Belgian Red Ale) and SweetWater IPA is scheduled for introduction to the Maryland market in late February or early March of 2015.