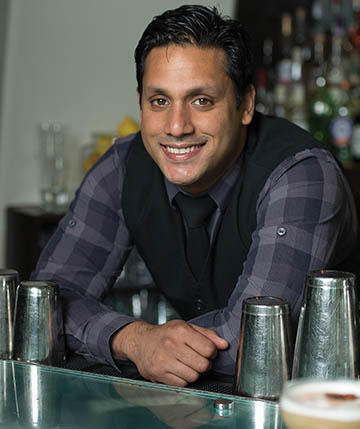 Before Dante Datta got into the bar and restaurant business, and way before he became bartender extraordinaire at Rasika West End, he led a very different life.  "I had a nearly 10-year career in finance before this!" he exclaimed, during a recent interview with the Beverage Journal.  "My last job in that field was actually working for the Washington Nationals.  I would write a sales report for the ownership each week."
So, what made him leave the world of numbers and number crunching?  "I turned 27 years old," he recalled.  "It was my birthday, and I went to New York City to celebrate.  A friend of mine asked me, 'If you could do anything, what would you do?'  And like many other guys, I answered, 'Well, I'd open a bar!'  So, I started mopping floors in a restaurant while I was working during the day.  As far as the restaurant business is concerned, I guess you can see I got into it a bit late in life."
That first part-time gig was at Ping Pong Dim Sum in D.C.'s Chinatown neighborhood.  He took other jobs and eventually found his way to his current full-time position at Rasika, one of the District of Columbia's top Indian eateries.
"I run their bar program, which means picking all of the spirits, designing all of the cocktails, ordering the beer.  We do non-alcoholic cocktails, as well.  It's all Indian food.  It's modern Indian cuisine with very traditional flavors.  The ultimate challenge that I have is that I am sort of a traditionalist as far as cocktails go.  I like the classics.  I love them actually.  So, the challenge is to find new ways to present them, but under the context of Indian flavors."
He continued, "It's something that, growing up in this country, you're not that familiar with -- using things like cumin and dill and cardamom.  Blending spices together has definitely been a big challenge for me, because cocktails are mainly an American art form.  My job is to bridge the gap between those two things."
Datta was born in Silver Spring, raised in Bethesda, and he went to college at the University of Maryland, College Park.  Consequently, working for Rasika has been an especially eye-opening experience for this local boy.  "We are located in area where there are a lot of hotels," he noted, "and I love the people who come in. We're an international restaurant serving an international clientele.  I like to tell people that it's almost like I don't have to travel.  The whole world comes to this bar!"
One of his favorite faces, though, is a local one -- Shannon Crisp of FEW Spirits.  "We now carry FEW's bourbon and their rye whiskey," said Datta.  "I love everything from FEW.  If you are a purist where bourbon and gin are concerned, they don't tone down the intense flavor and spices that I enjoy. It's everything that gin and whiskey should be.  I'm actually working right now to take the bourbon and the FEW Barrel-Aged Gin and try and do something on our cocktail menu for the fall."
So what has Datta learned from his comparatively brief time in our crazy business?  "Always show up on time!" he said, with a slight chuckle.  "Actually, I've learned that there are no rules to anything in this business.  There are only guidelines, especially when working overtime and trying to create something that is your own.
And while Datta has committed himself fully to Rasika West End, he still draws on his past work experience with calculators and spreadsheets and the like.  In fact, he has found his former career in finance to be a great asset in running Rasika's bar operations.  "Every time we look at costs and the numbers, I am able to look at it from the perspective of both how I used to look at spreadsheets," he concluded.  "Understanding costs plays a big part in everything we do here.  You can't successfully run a business if you don't know how to make money!"
HIS TEAMS: The Washington Nationals and the Washington Redskins
WHAT HE DOES IN HIS SPARE TIME: Yoga
HIS FAVORITE DC HANGOUT SPOT:  Petworth Citizen & Reading Room on Upshur Street NW
HIS HIDDEN TALENT: "I studied the violin for almost 13 years."
PERSON HE'D MOST LIKE TO SERVE (living or dead): Chef and restaurateur Grant Achatz, owner of Chicago's Alinea.