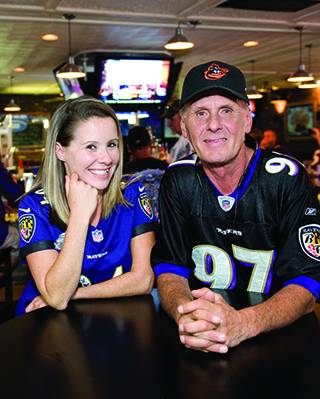 If you were ever a fan of the immensely popular TV series "Where everyone knows you name." Then you might want to visit a local version of that fabulous watering hole right in the heart of Anne Arundel County.
Pasadena, Maryland is an interesting place to visit, and is probably an even more different and interesting place to live. Pasadena is a place of conviviality. It is situated almost equidistant between Annapolis and Baltimore, but it doesn't seem to suffer from the social or political ills that plague either locale. According to the local patrons I spoke with on a recent visit to The Office Bar and Grill, it is what we might envision mid America to be but is located here in Maryland.
The Office Bar and Grill sits on a busy thoroughfare with the unlikely name of Mountain Road. It is curiously not mountainous, and abruptly ends at sea level by the Chesapeake Bay. This stretch of flat highway was once known as the longest piece of dead end road in the United States. Locals say, "It conveniently ends nowhere."
And on this dead end road, a neighborhood bar still exists where you walk in and it's a race to see who will say hello first. It could be the person sitting on the stool next to you, or it could be Ashley Marshall or Rob Wilt (bartenders/assistant managers) ... whomever it is; the greeting from both employees, strangers and regulars comes with the same upbeat cheerfulness. In any case, walk into "The Office Bar and Grill" in Pasadena and be ready for a genuine "hello."
This friendly welcoming attitude is what makes The Office Bar and Grill a meeting and gathering spot for neighbors. It is reminiscent of the sort of friendly local pubs you can find throughout small town America, where the locals gather at the end of the day to swap tales of their daily experiences, "out in the world."
Just as you would find in a quintessential local pub, a sense of camaraderie exists and emanates from its owners, general manager and employees. In the case of The Office it starts with Frank Kahrs, who along with a couple of partners, a few years ago bought a run-down bar in need of some tender loving care. They founded this tavern with the philosophy of "have fun and pay the bills."
Fortunately for everyone including owners, employees and the customers, Frank recently managed to lure his niece Sarah Hoover away from another career to become the general manager. They both made a great decision. Sarah is an example of an unusual sort of person who instinctively knows what to do and is able to motivate other people to get things done.
In fact, the genesis of this article is the result of Sarah's desire to say thank you to the folks who put in long hours every day at The Office to make it a successful business. She wanted to pay tribute to her co-workers for their hard work and their individual creativity. In every business, owners and managers wish they had employees who cared enough about them and their business, that when they go home at night voluntarily, on their own time, think of recipes for new drinks, new menu items and new ways to become better members of the community in which they work and live. This situation is pretty rare.
Sarah starts each day by asking the staff if there is a special drink or menu item they would like to serve. This common sense and hands on approach to motivation encourages the staff at The Office to make it a place to visit on a regular basis.
Kudos to Sarah, Ashley, Frank and all the staff of Pasadena's The Office Bar and Grill who deserve to be recognized for doing a great job serving their customers each day to the best of their ability. The "Having fun and paying bills" philosophy makes for a great spot to spend time with good people.
Cheers to you!