Cross-selling remains a potent strategy for retailers in the digital age.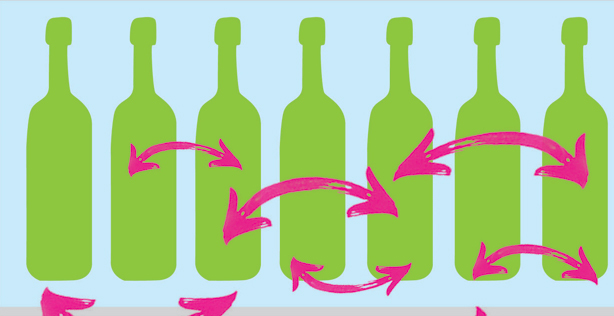 Consumers today have more options than ever for new wine recommendations. The long reign of wine writers and published ratings has been joined by mobile apps like Vivino, Wine Ring and Delectable. The wine world is wired now; anyone can follow the preferred palates of friends and industry pros, or receive suggestions specific to their taste, all with a few swipes on a smartphone.
So, does a small wine-loving retailer still have a role in expanding customer appreciation? Absolutely, according to Tim Laskey, a wine consultant and wine department manager who regularly walks the floor at Yankee Spirits in Sturbridge, MA.
With 30 years of experience in restaurant and retail, Laskey believes there is still no substitute for the personal connection. "They may come in with their cell phones and pictures of bottles, and we love that. But the internet does not allow you to taste the wine or interact with someone who has," says Laskey.
While the traditional rule of upselling a customer 25% in price remains effective, the importance of cross-selling—suggesting wines of similar price—should not be underestimated. "We are not driven by economics but enthusiasm!" beams Laskey.
By opening up a customer to trying a new wine at their preferred pricepoint, Yankee succeeds in cultivating more adventurous wine lovers, generating multiple bottle sales and building trust. "Upselling is a good strategy to gain
an increased sale. With cross-selling, you stand to get a customer for a long time," says Laskey.
Keys to Better Cross-Selling:
Avoid Upselling
While the temptation may loom, avoid the inclination to move customers up in price. You'll earn more goodwill by suggesting a wine that is lower in price than their usual choice.
Do Your Homework
Consumers are more informed than ever. You won't be doing anyone a favor by suggesting a wine you know too little about or haven't tasted. When you discover wines you love, cross-selling opportunities will come naturally.
Always Be Cross-Selling
Wine apps, email lists and social media are powerful tools to get your cross-selling ideas out to those who know you best, walking a perfect line between mass communication and a personal touch that will set you apart.
Practice Your Pitch
Create some conscious cues to cross-sell new wines related to your top sellers, e.g. "When I see a regular buyer of A, B, or C, I will point out X." Laskey is careful to compliment, never criticize the customer's choice, and says that in the end, cross-selling involves more listening than talking.
Follow Up
Off-premise retailers don't benefit from immediate feedback on their recommendations, like sommelier and servers. But that doesn't mean you should not be concerned with customer reaction. Make a mental (or written) note on your cross-sells and you'll be prepared to follow-up with "How did you like that wine?"
Written by | Jeffery Lindenmuth