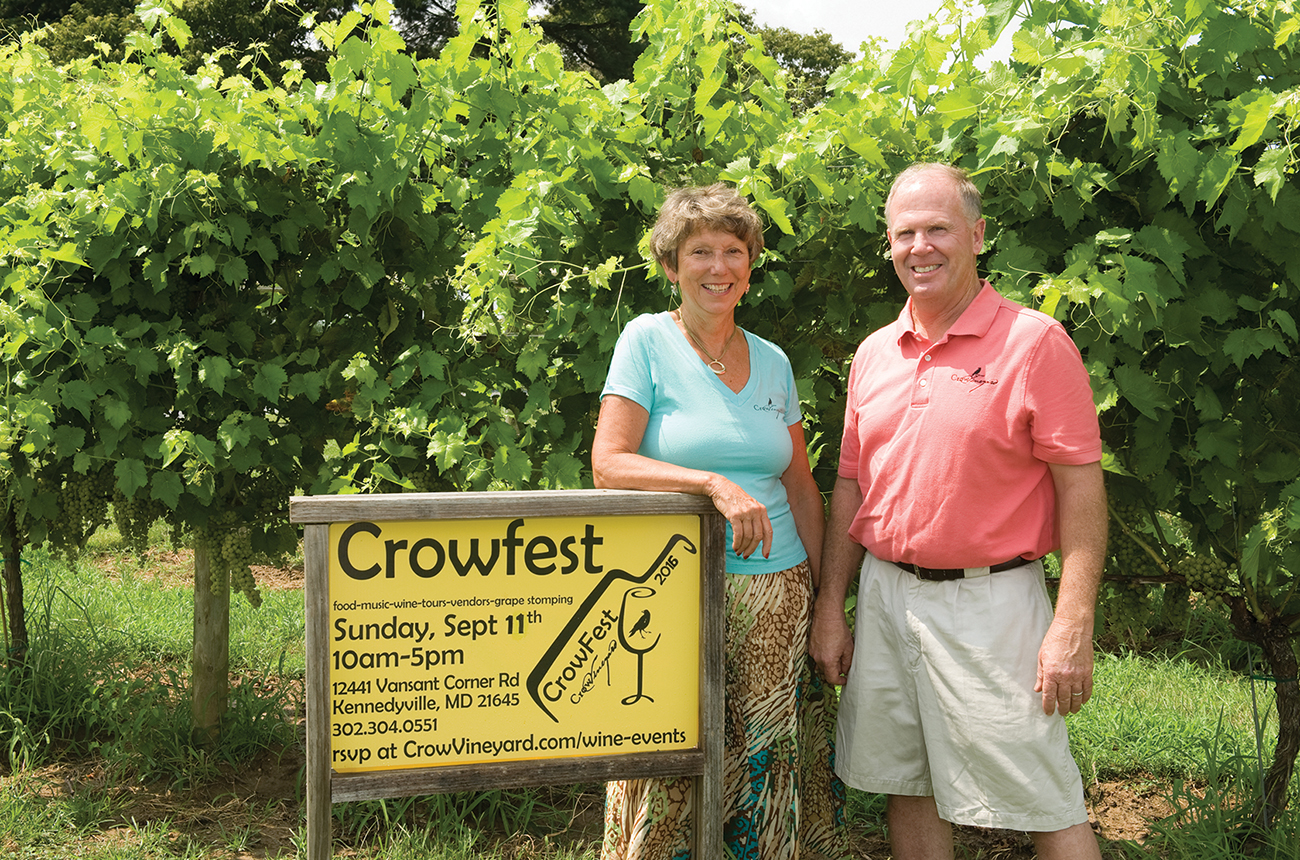 "Sometimes we feel like cowboy pioneers out here!" exclaimed Judy Crow, who co-owns Crow Vineyard and Winery with her husband, Roy. Located in Kennedyville, Md., just west of Middletown, the property has been a family-owned farm for three generations and began growing grapes and bottling New World-style wines about six years ago.
"It actually started eight years ago when Roy and I got married," she recalled, during a recent interview with the Beverage Journal. "We were looking for a way to reinvent this 365-acre farm. Phase one was to renovate the main 1847 farmhouse into a farm-stay bed and breakfast. We did that. And then we planted grapes. We have five sons between us. One son, Brandon, came back and became the vineyard manager. Then, we went to a winemaking seminar with John Levenverge, and we eventually hired him to be our winemaker consultant. Soon after, we took an equipment shed and made that into our 5,000-case production winery."
Levenverge helped the Crows understand the winemaking process. Eventually, though, Judy and Roy felt like they needed a full-time winemaker. So, they hired Catrina North. "She's been our full-time winemaker for the past two years," said Crow. "Hiring the best people are big investments for any business, but we really feel that the commitment to growing quality grapes -- not only here on our farm, but we have a few other local growers who work in tandem with us -- has helped us put our wines on the map."
And those wines are most definitely on the map. At the 2016 Maryland's Comptrollers Cup in early June, Crow Vineyard & Winery's 2015 Rosé took "Best in Class" and a double gold medal at the competition in Timonium. In addition to the recognition for the 2015 Rosé, Crow won silver for their 2014 Barbera, 2014 Chardonnay, 2014 Reserve Red Blend, 2015 Sauvignon Blanc, and the 2015 Vidal Blanc. Bronze medals were awarded to the 2014 Merlot and the 2015 Vintner's Select White Blend.
Additionally, Crow's 2015 Rosé was awarded a gold medal, with a score of 92 out of 100, in the San Francisco International Wine Competition where it was judged against rosés from all around the globe. Crow was also awarded medals for the 2015 Sauvignon Blanc, 2014 Chardonnay, 2014 Barbera, 2015 Vidal Blanc, and the 2015 Vintner's Select White Blend. This year, more than 4,600 entries were received.
"These honors help people in Maryland recognize that the Eastern Shore is indeed a contender," Crow remarked. "This is not the first time we have won a gold medal with our Rosé at the Maryland Governors Cup. It's really important for folks here to see that Maryland can produce some high-quality, sophisticated wines, and there are a number of wineries that are making a commitment to make sure that happens for our state. I think awards help the general public understand that message we're trying to get out there. I know that whatever we produce, it is of high quality."
It also helps that the Crows have been active members of the Maryland Grape Growers and the Maryland Winery Association ever since they started thinking about starting a vineyard and making wine. "Those two organizations have provided a wealth of information for us," Crow stated. "We like to stay open to a lot of different information."
She continued, "I grew up on a dairy farm, and I didn't think I'd ever marry a farmer. Before I married Roy, I was in education. I spent about three years in higher education. Whatever we're doing, I've also tried to make it about transferring information to the public. We believe people have a great desire and thirst to hear and learn more. We give everyone who comes to our tasting room a tour of the winery. If Roy and I are available, we personally do it ourselves. We live here, so we're pretty much available most of the time. If our winemaker is here or our vineyard manager son, Brandon, who is now a business partner with us, we all make sure to have educational and informational conversations with the general public about making the wine. We really try and make ourselves available as much as possible."
Crow Vineyard & Winery holds the distinction of being Kent County's first winery. The Crows' wines embody the simple elegance of a working pastoral landscape in rural Maryland. In addition to operating the B&B, the family also sells all-natural grass-fed beef.
"My husband has been working the farm ever since he was born," Judy Crow marveled. "In all of the transformation of this 365-acre working farm, we have tried our best to be authentic. Our tasting room used to be my husband's milking house. The winery used to be a dirt-floor equipment shed. Our tanks are from South Africa. We have a French press. We also built an addition, and we now have our own bottling line. We're taking very seriously growing, producing, and putting products in the hands of the public that we are proud of."
And the public has responded by buying the Crows' wine and turning out for such special events as last year's Crow Fest. Crow remembered the event fondly. "It was a day when we opened up the farm for farm tours and winery tours. We explained how we grow our cattle. We had vendors here and hayrides and grape stomping. I think we had about 400 people last year. And we liked that size, because it still allowed us to have many one-on-one interactions with the public. It also gave people an opportunity to really see an authentic working farm."
She concluded, "It's challenging to keep things authentic because you're always feeling the pressure to become an event venue, to make things bigger, to host more events. But we really want to stay who we are. We're farmers!"