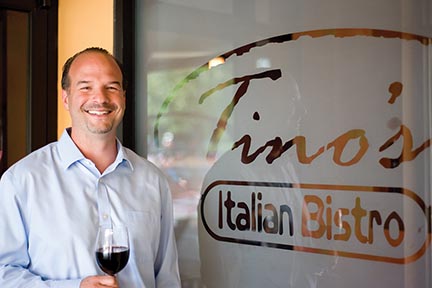 I can't write about Tino's Italian Bistro with Wine Bar in Columbia without acknowledging that in a couple of days, or at most a week, I'm going to break down and go have dinner there.  It's that kind o' yummy!  But while it may be the authentic Italian recipes that lure customers there in the first place, most likely return for its impressive beverage selections that complement such dishes as Ravioli Chesapeake, Tortellini Bolognese, and Seafood Mare Bella. 
And those who do return often come back on a Sunday for what may be Howard County's best beverage promotion. Free Wine Sundays!  For every entree order, owner Chris Infantino and his staff take 25 percent off a bottle of wine from a list of 25 bottles to choose from. So, if there is a table of four and they all order main courses, they get a free bottle of vino. 
During a recent interview with the Beverage Journal, Infantino remarked, "The original idea was, 'Let's make it so that two couples can get together -- whether they are younger with no kids or are in their 50s or 60s and their kids are grown -- have dinner, and get a free bottle of wine.  So many other places offer half-priced wine nights.  I wanted to do something that had a bigger value.  Come in for the food, and I'll complement the food with a wine that you normally spend $33 or $28 on.  Our Sundays have literally gone up 50 percent since we started that."
The journey to getting Tino's up and running has been a long one.  Infantino comes to the business from the finance side.  A senior vice president with Howard Bank, he had been working in the Columbia area since 1999.  There used to be a restaurant on the Tino's site called Strapazza that he ate at once or twice a week for years.  In September 2010, he learned that a number of the locations in the Strapazza chain were going to be closing including his beloved Columbia one. Having become friendly with the general manager there, he started to seriously consider making a go of it in the restaurant business himself, running the front of the house while the former GM ran the kitchen.  After contacting the landlord, Infantino was able to work out a lease deal and thus -- after much gutting, renovating, and rebuilding -- Tino's opened in June 2011.
"I grew up in an Italian household in New Jersey," Infantino said.  "A lot of the recipes are my recipes and my mom's recipes, as well.  All of the sauces, the bread, the meatballs are home-made.  We make everything we can potentially make.  We don't buy meatballs frozen and heat them up.  It's not what we do."
Infantino, though, quickly realized the importance of the beverage side of the business. As such, Tino's drink philosophy has changed and evolved in its first three years of operation.  "In the beginning," Infantino noted, "we started with all mainstream brands -- everything people would know.  We served everything from Miller Lite, Bud Lite, and Coors to all of the mainstream liquors.  It was the same thing with the wines.  We offered everything that you would see in a liquor store whenever you'd walk in.  As time has gone on and the more we have come to understand, we've become more daring.  We've gotten more into craft beers.  I think we started with 24 beers, and 24 of the 24 were all brands that I mentioned earlier.  But at this point in time, I think we're down to eight or nine name brands.  The other 15 are more craft-oriented."
He added, "We've also really relied on the wine reps to bring in some great wines at great price points. From a wine selection standpoint, I believe there is not a single wine by the glass on our menu that is a name brand.  We are typically going to the wine distributors and saying, 'We want to get more restaurant-only wines.'  We switch up that menu every six months.  Twice a year, we're changing the wine list.  Not entirely, but probably about 40 percent of the wines get changed up every six months even if they're selling well.  If they're selling really well, we'll put them on wines by the bottle, menu-only.  But we like to keep it interesting."
Infantino has tried to pick the brains of the different wine distributors and wine pros whenever possible. His most frequent question is simply "How can we improve?"'  While some reps have come on site and put on different classes for him and his staff, there has been one piece of advice that has really stood out and made a difference.  
Infantino stated, "The rule of thumb has long been to always serve red wine at room temperature.  So, you'd just let it sit out.  One thing the wine reps taught me was, 'That came out over 100 years from now. Italians served red wine at room temperature.  But a hundred years ago, room temperature was typically low 60s.'  Nowadays, people keep their homes warmer than they did a century ago.  It's easier do that.  Set the thermostat and move on.  I never knew room temperature really meant low 60s.  So, the reps told us, 'One thing to do to really make your place classy is get wine refrigerators and set them at around 60 degrees, and that would be something classy that not even many of the high-end steakhouses do.  So, about six or eight months ago, we purchased wine refrigerators and chilled out all of the red wine in the upper 50s.  We know that when we take it out, in a few minutes, it will warm up a degree or two.  So, we really put a lot of focus on being a true wine bar, and we've gotten a ton of compliments on that.  People who understand wine appreciate it very much."
In addition to Free Wine Sundays, another weekly promotion has also proven to be quite popular and endearing to the local clientele -- Foundation Mondays.  Each and every Monday, Tino's co-hosts an event with a local organization, charity, or non-profit where the restaurant donates 10 percent of the entire day's sales.
"Foundation Mondays has exploded," Infantino proudly declared, "and we've actually started doing that on Tuesdays, as well.  I started the restaurant in June 2011 and two months later, my fiancé got sick with cancer.  She fought for two years and passed back in October.  I was with her through all of that.  It was during that time that I realized that there is something more out there that means a Hell of a lot more than just making money.  I decided that I was going to give back and really be on the front lines.  I wanted to do something that was close to home.  I saw that a lot of places would have these times where the restaurant gives back 10 percent or 15 percent of whatever your party brings in.  You have to come in and tell them, 'I'm with the German Shepherd Rescue party.'  A great foundation will bring in $1,500.  An average one will bring in $1,000, and that's a good 40 or 50 people coming in to eat."
He continued, "I decided I'd rather do something where I would give back probably more than I should to really help the cause, and it's going to be a win for everybody.  I know that I'm going to pick up some new clients, who will hopefully look at me and say that here's someone who truly gives back to their community.  On average, we're about $4,800 on a Monday now.  So, we're giving back an average check of $480 every Monday.  And I also allow the foundations who come in to do things like guest bartenders and 50-50 raffles.  I think we're booked for the remainder of this entire year! It took about six months to catch on, but we've been booked now for probably the last eight months. We've already hosted two Tuesdays, and we have two more in July [this interview was conducted right after Independence Day].  We'd been turning away so many groups of people that it made sense to bring an additional day into it.  We're somewhere between $40,000 and $50,000 in donations at this point in time. It's a great feeling, and it has really endeared Tino's to the community.  Plus, I have been getting invited to more galas and events than I ever dreamed possible!"