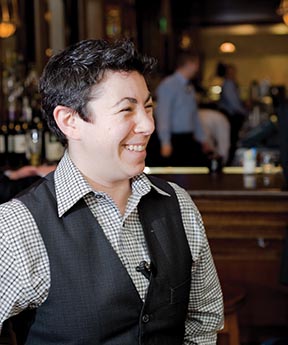 Samantha Withall, Beverage Director at The Hamilton on 14th Street, has certainly bounced around the biz locally.  She has been a chef for nearly a decade, having worked at such venues as Cafe Atlantico and Restaurant Nora and helping to open Minibar on E Street and Oyamel Cocina Mexicano.  At one point, she got out of the kitchen and served as Purchasing Director for the Park Hyatt Hotel.  "After that," she said, during a recent interview with the Beverage Journal, "I did some restaurant consulting work before jumping into a wine and beer buyer position for an all-natural, organic market in Olney, Md."
That job ended up stoking her passion for the beverage side of the business, and she eventually accepted her current job at The Hamilton.  "The Hamilton is the cruise ship of restaurants!" she proudly declared.  "We are very large.  We have a lot of square footage.  In fact, the actual space that we are in used to be a Borders bookstore.  Before that, it was a Garfinckel's department store.  We have six bars and a live music venue in our basement. We offer a ton of all-American cuisine, but we also have our own sushi bar in-house that is manned by a full team of sushi chefs.  We're owned by the Clyde's Restaurant Group, and we're very eclectic in what we offer."
As for her duties and responsibilities, they are just as eclectic.  "I oversee our draft line-up, which for the upstairs restaurant is about 20 different draft lines.  We focus on as much local, all-American craft beer as we can with a few imports that are popular brands.  I also oversee about a 150 to 200-bottle wine list that focuses on small production wines, nothing more than 5,000 cases per vintage or per style per year.  Even though we are a very large restaurant, we really look to focus on the more artisanal and smaller production wines and, similarly, that follows suit with the focus of our beverage program as well.  For our cocktails, although we have a ton of the big-name brands that most everyone has behind the bar, we really look to focus on the resurgence of the American craft distillery movement.  All of our specialty cocktails focus on small craft distilled spirits."
Withall has also definitely become more of a wine person than she ever thought she'd be.  "This job has definitely broadened my palette and deepened my appreciation for what the growers and winemakers are doing.  I can honestly say that I very rarely taste a bad wine!  That's a really nice thing.  It makes my job that much more enjoyable."
She continued, "The amount of volume is daunting.  Keeping our product in stock is important.  We do a lot of volume.  So, just making sure that we have everything that we need for the guests is quite the challenge.  The most important thing is what is in the bottle.  Marketing and a million other things can sway one to want to purchase one thing versus not.  But my thought is, if what's in the bottle doesn't represent what is supposed to be, it's not worth getting."
Withall even has some sage words of wisdom for anyone reading this who is new in the beverage and hospitality trade and looking to thrive over the long term.  "Try as many things as you can whether you like them or not," she stated.  "I find that every couple of years or so, my tastes change.  Even something that I might not have enjoyed before I find that I might actually like now.  So, don't turn your nose up at stuff.  Just try it and be open to what is out there.  Personally, there are things that I like over others.  But the whole idea is to learn and understand what people are enjoying at the time."
With the arrival of spring, Withall and her staff at The Hamilton are looking forward to touting their seasonal cocktail list.  Customers are especially loving The Hamilton's cherry blossom cocktails, most notably Washington's Cherry Temple and the Cherry Chocolate Jubilee.  The former is made with American Harvest organic vodka and organic tart cherry juice, with Leopold Bros. Maraschino Liqueur and a little vanilla simple syrup. "Spring has definitely sprung at The Hamilton!" Withall stated.
FAVORITE MOVIE: "Dirty Dancing"
BEST TRIP: A few years back, she took a six-month break from the hospitality business to hike the Appalachian Trail.
PET: Dog (she has a weimaraner who goes on hikes with her).
SPECIAL TALENT: "I do stained glass work."
PERSON SHE'D MOST LIKE TO SERVE AS A CUSTOMER: Benjamin Franklin