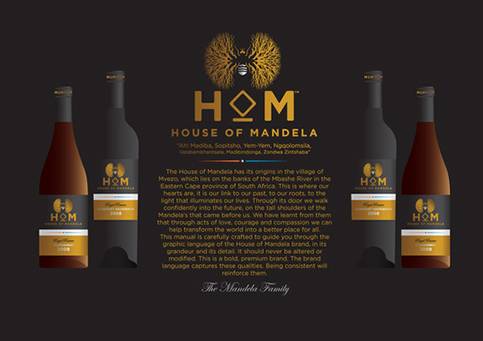 When people think of wine, what often comes to mind is a sense of tradition, a diverse richness that can speak volumes of its origin. With House of Mandela wine, it is all of that and then some. The wines are not simply juice in a bottle, but the story of those behind it and the rainbow nation of South Africa.
Each wine contains a distinct piece and flavor of Africa, her history, and her people--from the Royal Reserve Cabernet Sauvignon, a red with a rich and opulent palate of sweet-yet-dark fruity notes; to the Royal Reserve Chardonnay, a white that delicately balances citrus fruit and natural acidity with oak integration. For this reason they chose wine as a bridge between the past, present, and future – an appropriate way in which to tell their story, and pay homage to their ancestors.
The House of Mandela is conceived of and led by the women of the Mandela family, Makaziwe and Tukwini (pictured), respectively daughter and granddaughter of Nelson Mandela. They draw much of their inspiration from his words, "I was shaped by the cultural traditions and values of
my ancestral roots". The Mandelas trace back to a royal bloodline that dates back to the 18th century, to a small village by the Mbashe river, when Thembu Land had been a part of a royal kingdom of the Eastern Cape.
"We are praising our ancestors," says Tukwini Mandela. "We are telling the story of our family and who we come from with these wines." Embracing those roots, they strive to bring the same passion and unity to the industry—to create and contribute to projects with soul and quality. They have also been noted to donate portions of their proceeds to charitable groups working to resolve socio-economic issues in South Africa, such as education, health, culture, and energy.
The House of Mandela currently offers two tiers of wine, with prices ranging from $12 US for their Thembu collection, to $50 for the Royal Reserve. The Thembu collection features a Cabernet Sauvignon, Shiraz and a Pinotage (a Mandela family favorite), plus whites wines of Sauvignon Blanc, Chardonnay and Chenin Blanc. In the Royal Reserve, there is currently a Chardonnay, Cabernet Sauvignon, Shiraz, and sparkling wine available.
The screw-capped bottles are adorned with their logo, a bee that symbolizes compassion, kindness, humanity, and courage. It is a literal translation of their father and grandfather's name, Rolihlahla; colloquially meaning, "one who is brave enough to challenge the status quo." The wings of the bee are to represent the many branches of their family tree, and the Thembu bottles were created to reflect Nelson Mandela's love for the vibrant fabrics of dashiki skirts.
"There is a lot of synergy between wine and our family," says Makaziwe Mandela. "But when you look at how the vine grows, the vine doesn't grow in a straight line. It twists and turns, representing the twists and turns of life. Life is not a straight line. What we are proud of is that out of adversity we helped create a wonderful experience."
Interesting Fact:
When Nelson Mandela had been released from prison, a swarm of bees followed him home, all the way back from the airport. This was to symbolize good tidings and blessings from his ancestors, and to welcome him home.