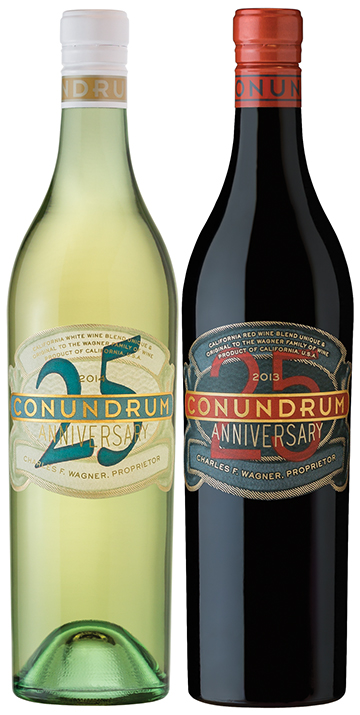 Conundrum was born 25 years ago, and today it still stands for doing things your own way and daring to explore. Its inspiration came from Charlie Wagner, Sr. – co-founder of Caymus Vineyards and father to winery owner Chuck Wagner – who would sit at the dining room table and mix wines to create the "perfect glass" to pair with his meal. At the time, blending wines was considered almost unthinkable, and even Charlie Sr. had no idea that his bold experiment would help usher in a whole new trend.
Today, Conundrum is as original as ever. They continue to source their fruit from some of the most sought-after California winegrowing regions to ensure both quality and diversity: Napa, Monterey, Santa Barbara and Tulare Counties. While the exact blend remains under wraps, with every vintage they include Chardonnay for its weight and complexity, Sauvignon Blanc and Semillon for crisp acidity, Muscat Canelli for floral qualities and Viognier for lush texture. Taken together, they add up to a wine that's amazingly versatile, pairing well with everything from salmon to spicy food, or enjoyed on its own as an aperitif.
Winemakers, Jon Bolta and Charlie Wagner, preserve the individual characteristics of each varietal by taking great care to keep separate lots of fruit throughout the entire winemaking process. Some lots are aged in chilled stainless steel tanks to maintain fresh, crisp aromas and fruit flavors, and some in a combination of aged and new French oak barrels for up to ten months. The intriguing result: a wine with multiple layers, subtle and complex, born of an adventurous spirit while inviting more adventures to come.
Winemaker John Bolta on Conundrum White: "Fresh fajitas. Relaxing before dinner. A night out for Thai or Vietnamese. Conundrum White goes with them all. Sourced from California's premier winegrowing regions, this wine is both exotic and bright, a blend of Chardonnay, Sauvignon Blanc, Semillon, Muscat Canelli and Viognier. It lures you in with scents of apricot, pear and honeysuckle, and if you're paying attention, orange and lemon meringue pie. Initial sweetness is balanced by natural acidity, and we love the hint of oak that plays with flavors of peach, apple and citrus. The long finish will leave you longing for another glass."
Director of Winemaking Charlie Wagner on Conundrum Red: "We believe in being both serious and playful, and this wine fits the bill. A rich, dark red, it offers aromas of ripe berries and plums, warmed by a hint of cocoa. Dried fruit and the taste of chocolate-covered cherries come through on the palate, while a wisp of smokiness makes this wine – created from dark red varietals including Zinfandel and Petite Sirah – the perfect complement to grilled meats and full-flavored dishes. Tannins are rounded out by the ripeness of the berries for a texturous but smooth mouth feel. The finish makes us think of lingering at the end of a long evening and still not wanting to go home, with layers of rich flavor that teasingly trail off."