On the first morning of beer school many years ago, the instructor boldly stated, "Nothing good happens to beer once it is put into a bottle, can or keg." Freshness fades and beer quickly deteriorates once it is put into any kind of container.  And while pasteurization might slow the process, the original taste is changed and the deterioration process from aging continues unabated until beer has lost its freshness, its flavor and its taste. 
During the 1970s and 1980s, the country's largest domestic brewers spent millions of dollars studying the effects of aging on beer freshness. They concluded that after heat, light, oxygen and dirt, beer's greatest enemy is time. Preservatives are one way to prolong the shelf life of beer, however, during the past thirty or so years, the use of preservatives has become unacceptable and most, if not all, brewers have discontinued using chemical preservatives. The brewers' collective answer to prolonged shelf life was to store beer at lower than ambient temperatures, i.e. the temperature surrounding beer. 
Each brewer followed its own approach to address the aging problem only to arrive at a similar but temporary solution. At Anheuser-Busch, brewing chemists experimented with the effect of lower temperatures on beer aging. They concluded temperature played a very important role in the aging process, and was the one element that could be controlled throughout the manufacturing/distribution process. As a result, Anheuser-Busch wholesalers were mandated to either build expensive climatized/refrigerated warehouses or to retrofit existing facilities.  Each wholesaler plan had to be approved by AB prior to construction. The Coors Brewery approach not only involved a similar warehouse solution, but took the extra step to require its beer be shipped  in refrigerated trucks from its brewery in Golden, Colorado. It also required its wholesalers to deliver Coors products in insulated and refrigerated trucks. Miller imposed its own policy on air conditioned warehouses with temperature set points that vary throughout the year. Currently, Sam Adams and Pilsner Urquell amongst other brewers have adopted their own cold storage policies. Without a doubt these approaches have helped slow the aging process, but the overall effect is muted as a large percentage of beer is delivered and stored at retail locations in warm, unfriendly conditions.
Brewers also began to emphasis freshness by enforcing their own type of a code date policy, with violations leading to stiff penalties and the threat of a loss of a wholesaler's franchise. Whether based on a born on date, a best before date or a pull date, it is important that any code date policy be designed for ease and understanding by its intended audiences - retailers and consumers. Unfortunately, code dating and code date policies were often confusing and not of any real value.
Many wines and spirits improve over time. 
Why not beer?
Over the years, the most popular beers on the market have been light bodied lagers that don't have the inherent qualities necessary to allow them to age naturally without spoiling. They are clear beers rather than dark beers, they have low alcohol content and they have undergone super filtration that virtually eliminates all traces of yeast and sugar before packaging. 
It wasn't until recent years, that most US brewers began to experiment with beer types other than light bodied lagers with low alcohol content.  They learned the primary reason for a short shelf life is the low alcohol level (3.2-6% abv) in their beers. Vintners and distillers don't have these same problems because of much higher alcohol levels in their products. 
So, although the majority of beers on the market cannot and will not grow old gracefully, happily there are a few that are the exception to the rule, but patience and planning is required. Brewers have learned that aging certain beers can yield enhanced flavor and taste characteristics over time. The difficult question is to figure out which beers will benefit and how long to age them. In the end, you may change your mind at how you now feel about "old beer."
Selecting the right kind of beer for aging
If lagers, IPAs and most ales don't age well then what type of beer does? The answer is not straight forward and is a matter of subjective judgment. But, the one thing experts seem to agree on is there are very few beer styles suitable for aging.  The first and most important factor in selecting a beer for aging is alcohol content.  A beer must have an alcohol level of at least 8-10% alcohol by volume.  High levels of alcohol retard spoilage. But then high alcohol content raises concerns about the beer's taste. Not to worry, strong alcohol flavors just like in wine and spirits mellow out over time.
Hops once thought to be an ideal preservative are an interesting story. For the past 150 years or so, hops have been used as a natural preservative. In fact, highly hopped India Pale Ale was developed to with stand the long trip from England to India.  But once it had arrived at its destination the hop flavor and aroma quickly faded away. So, in order to be enjoyed, it had to be consumed soon after reaching its destination.
Beers with high concentrations of malt and sugar tend to age well. So called "conditioned beers," that is beer that has had sugar added to the bottle or has unfiltered yeast remaining in the bottle are good candidates for aging. A useful corollary to keep in mind is that in order to have the most enjoyable drinking experience, any beers that aren't suitable for aging should be consumed as soon as possible once they leave the brewery. 
Cellaring - Ideal ways
to Age and Store Beer
To properly age beer, a cool dark environment is necessary where the ideal ambient temperature is less than the fermentation temperature.  A stable temperature range of 50-60F year round seems to work best.  The humidity level in the storage area should also remain fairly constant. And, unlike wine which is normally stored on its side to keep the cork wet, bottled beer should be stored upright.  When beer is laid on its side, the plastic liner in the cap can interact with the alcohol in the beer and eventually allow air to enter the bottle and oxidize the beer. Practitioners of aging beer carry out "vertical sampling." That is, they buy and age several samples of the particular beer and test it at predetermined time intervals in the future. Through trial and error they can determine if a particular beer is enjoyed the most at 6 months, 1 year or 5- in a log or journal for future reference.
Anticipating the Results –Some Thoughts
Every beer has its own unique aging profile, and deliberately aging beer is a very inexact science. Some beers may actually have enhanced flavors and be best after aging for three years.  Others, however, may have a freshness window of only one year.  Only through experimentation or talking with someone who is familiar with a particular beer is it possible to know at what age it is best to drink a particular beer. On a cautionary note, the aging process when done correctly will not yield a beer that tastes like it did when it was when fresh.  Expect changes in aroma and flavor to occur and be open to enjoy those changes.   What started as a somewhat harsh alcohol flavored brew may end up as a mellow and enjoyable beverage with a very different character from when it was first bottled.
Beer Types that Age Well
With proper alcohol levels and cellaring techniques, there are some types of beers that can benefit..  They include: barley wine, gueze, Belgian Quads (strong brews), lambic (sour beer) and Imperial Stout.  Happily, some of the world's best aged beers are brewed here in the U.S.
While most of these beers are readily available, many "beer aficionado's" throughout the world make a hobby of tracking down scarce vintage beers.  It can be an expensive hobby as rare vintage beers known as "whales' can cost between $1,000-2500 per bottle.  That is, if the collector can get the owner to part with one.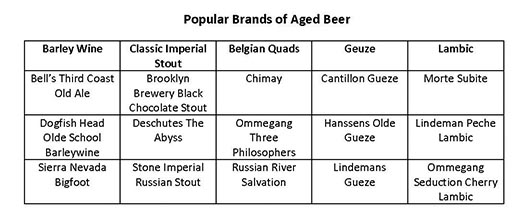 Want to know more about "Aged Beer"?
There are two good reference sources for learning about "aged beer."  "Beer Cellaring Basics: A Guide to Aging" can be found at www.kegworks.com.  It is a four page primer on beer that deals with beer aging basics. The authoritative guide to the subject is a recently published book by Patrick Dawson titled Vintage Beer – A Taster's Guide to Improve Age over Time.  This is a short (140 page) book that gives a comprehensive explanation about the subject. 
Learning to cellar and age beer requires patience and experimentation, and is another step in becoming a more educated beer seller and beer drinker.