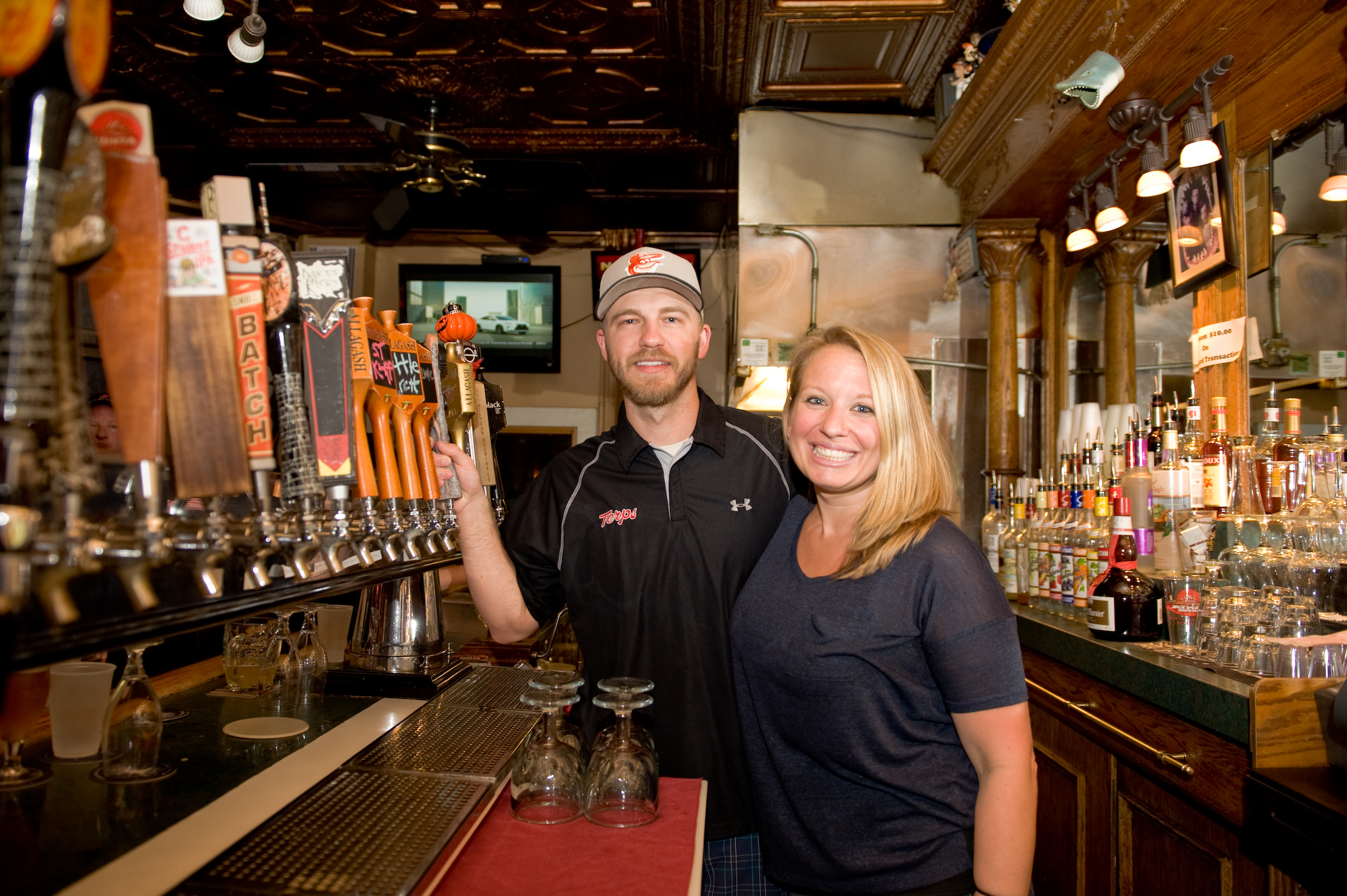 Dennis and Alice Kistner are the Bar and General Managers, respectively, at Mahaffey's Pub in Canton and are married in "real life". The two proud parents also have an 18 month old baby keeping them busy at home, but that doesn't stymie their dedication to the bar one bit. If anything the youngster has driven them to reach for greater success.
The pair couldn't help but show excitement, and borderline elation, whenever talking about "Little Dennis". Alice described early motherhood with the youngster saying, "It's fun. We take him with us everywhere. He's a good baby, he makes us laugh and now he's doing so many things, it's entertaining."
Alice explained how initially it was a difficult balance, but that she wouldn't trade it for the world, "I snapped at a couple customers and I had to apologize a couple times, but we have awesome customers and they understood right away." With superhero-esque confidence and an ear-to-ear grin she continued, "It's just like juggling any other job. I love what I do. I'm constantly moving. I'm not sitting at a desk all day so I'm not getting bored."
Asking the two of them about what they do for fun revealed almost subconsciously that their young son Dennis is the center of their universe without exception. "Every Thursday we take him on a field trip. We went to the bouncy house today and it's fun, you know?" Alice continued, "We go to places like the aquarium and the discovery center."
Other than the day trips, managing a bar, and doing some personal training on the side Dennis and Alice both balked before answering what else they do in their free time. "I guess we've started cooking more."
The two relentless parents continue to build their life around the youngster. So much so that it has carried over to their next venture.
Good ideas often come to us while showering. Most likely because there is no one else around to tell us it's a bad one. In the case of Dennis and Alice, one shower idea quickly turned into a great idea.
One day Dennis' shower helped to brew up the idea, "Why not add writing a book to the agenda?" Given the nature of his experiences, and after a little research, a children's book about beer was born.
Tired of the same old children's stories he set out creating characters like Mary Malts, and Bobby Barley and soon after "Hophead Harry Goes to the Brewery" was born.
While not everyone may agree with the idea of a children's book centered around beer, Dennis is hopeful that people keep an open mind. He understands it could also be more of a novelty item. "We hope it's both. People having kids right now kind of grew up drinking good beer. We're not necessarily just a generation of Coors light or Budweiser drinkers."
The craft beer culture has grown with millennials and Dennis cites this new market as a reason for writing the book and reason why he's not concerned with the book's reception.
Needing art for the new endeavor he sought the assistance of fellow Mahaffey's bartender and Maryland Institute College of Art graduate, Beth-Ann Wilson.
Beth provided a series of mock-ups and auditioned for the job. After seeing rough sketches bring their characters to life, Dennis and Alice asked Beth to be their artist.
The three immediately went to work on the 22 page children's book that Dennis describes as, "a rhyming book that shows how beer is made, the ingredients and the processes that get the beer from the farm to the pub."
The target date for publication was a simple decision as another feature of the beer world growing faster than ever comes into town. The 2016 National Homebrewers Conference will be held in Baltimore this year. The conference will be held June 9th-11th at the Baltimore Convention Center and is expected to garner over 6,000 attendees.
"I definitely want to get it done by then to try to get it out there." Dennis continued, "We also want to sell it at the bar and talk to some of the homebrew places that are close, because they have home-brewing books, to see if they would carry it."
Something your customers don't know about you:
Alice: I'm actually very nice
Dennis: There are five close relatives that are all named Dennis and live within 5 miles
One place you'd each like to travel:
Dennis: Belgium
Alice: Bora Bora's overwater bungalows
Favorite movie:
Alice: Tommy Boy
Dennis: National Lampoon's Christmas Vacation
favorite childhood toy:
Dennis: Anything Teenage Mutant Ninja Turtle
Alice: Skip It