MSLBA Annual Meeting and Legislative Update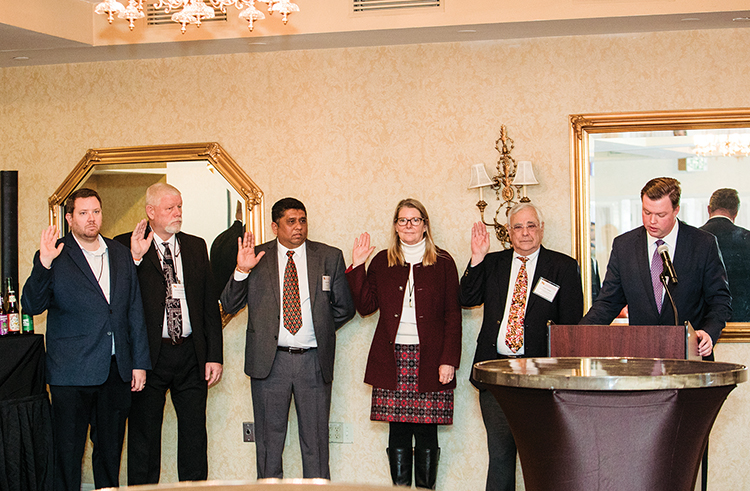 John Bodnovich, Executive Director of MSLBA's national affiliate - American Beverage Licensees (ABL), administers the oath of office to the newly elected MSLBA officers. L to R: MSLBA Recording Secretary, Kevin Storm of Frederick Wine House; Vice President, Mike Scheuerman of Friendship Wine & Liquors in Harford County; President, Aashish Parikh of Cranberry Liquors in Carroll County; Treasurer, Marshele Burgess of Rip's Country Inn in Prince George's County; Financial Secretary, Pete Samios of Carroll County, and
John Bodnovich of ABL.
---
Bars, clubs, restaurants and package stores throughout Maryland - members of Maryland State Licensed Beverage Association (MSLBA) - held their annual members' meeting on January 8, 2020 at the Governor Calvert House in Annapolis. MSLBA President Darren Barnes, proprietor of House of Liquors in Westminster, was at the helm for the majority of the meeting but finished by handing the gavel over to the newly elected president Aashish Parikh of Cranberry Liquors in Carroll County. Darren served two years as president of MSLBA and vowed to assist Aashish in continuing the association's efforts to advocate for local beer, wine and spirits retailers.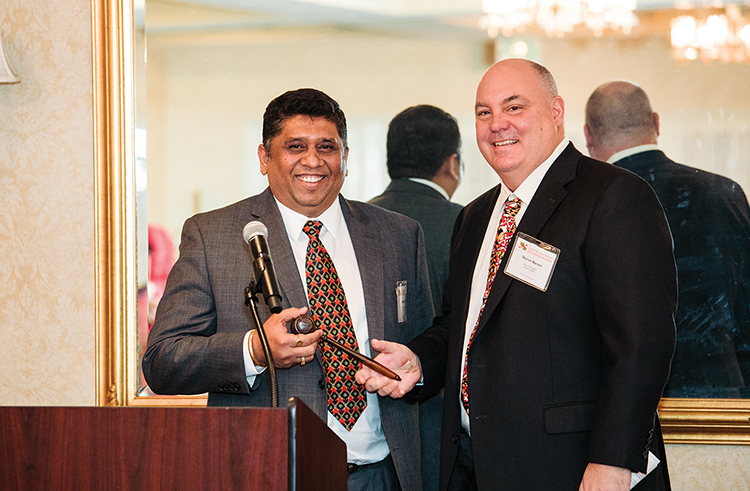 Newly elected MSLBA President Aashish Parikh accepts the gavel from MSLBA Past President Darren Barnes.
---
The meeting also served as preparation for MSLBA members to talk with their legislators in the Maryland General Assembly (MGA) later in the day during a reception that MSLBA was hosting along with the Maryland Beer Wholesalers Association and the Licensed Beverage Distributors of Maryland. MSLBA lobbyist Steve Wise briefed MSLBA members on currently proposed and expected alcohol related legislation in the 2020 MGA session. Steve also reviewed the many leadership changes that have occurred in the Maryland House of Delegates and the Senate since the end of the 2019 session - emphasizing the importance for MSLBA members to talk to legislators about their concerns for their business, their employees and their community. Each year there are hundreds of important legislative proposals that affect the livelihood of local alcohol beverage retailers.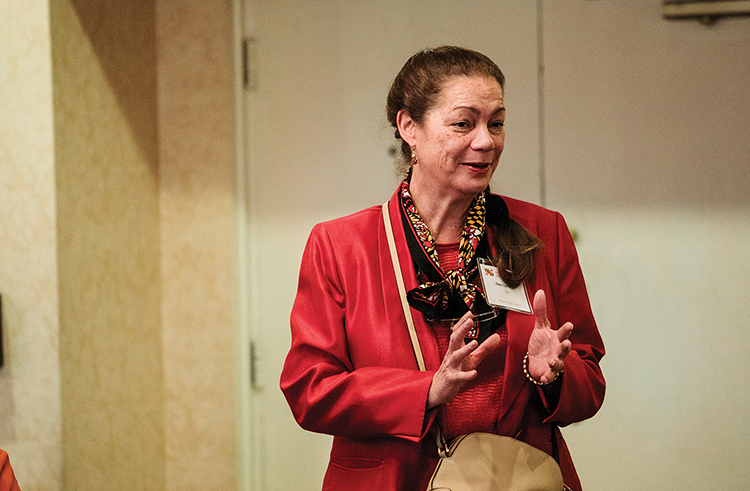 Jane Springer, MSLBA Executive Director speaks to members at the annual Members Meeting and Officers' Installation.
---
For additional information retailers can contact MSLBA at 410-871-1377 or mslbamembers@msn.com.
Click Here to check out the article as it appeared in The Journal.